Did you know that less than 20% of special needs adults in the United States have a job. Our print marketing and fulfillment company in St. Louis has made it a personal goal to improve that stat! We strive each and every day to make a difference in our community and in the special needs community. Accent Group Solutions has partnered with a special school district to provide an opportunity for students with special needs in our area to learn and grow their job skills. A student who knows how to interact with fellow employees and have a good work ethic are much more easily employable. This drives success in the workplace for both employees and employers! Learn more about the three unique programs we offer:
• Vocational Skills Program (VSP)
• Summer Work Experience Program (SWEP)
• Community Based Vocational Instruction (CBVI)
We couldn't be more proud of these programs as they impact the lives of many in our community. Not only does it make a positive impact for those with special needs, but our employees are also inspired on a daily basis by these individuals in our programs!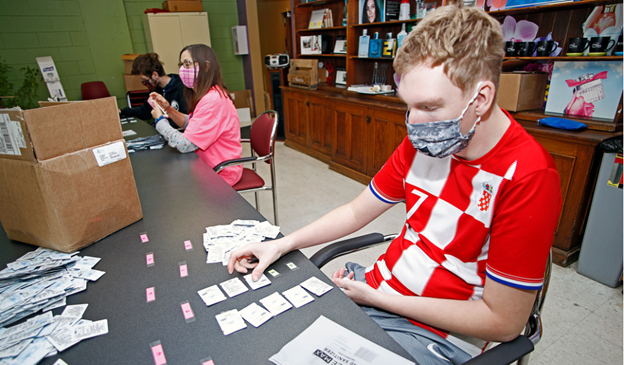 Accent Group Solutions was recently honored to be chosen for the St. Louis Philanthropic Company award for our work with the Special School District in St. Louis! Thank you to Miss Kim for nominating us and thank you to all of those that have supported our vision over the years! We look forward to continuing to make a positive impact on the future of the special needs community in St. Louis and across the United States!