It's trade show season in the heart of St. Louis! From boat shows to home & garden shows the city will be filled with potential clients for many of the businesses in St. Louis. The best print company in St. Louis would love to help your business stand out above your competition at your next trade shows. In this week's blog, we will highlight a few ways your booth can draw customers without breaking the bank.
Custom Banners
A custom banner that has great graphics is the best way to entice people to notice your booth. With attention to detail, a photo that draws people in, and branding that shows who you are ways to make your banner stand out from the rest. The graphic artist's team at Accent Group Solutions will sit down with you, listen to your goals, and create a banner that will show off your business brand.
Handouts / Brochures
Don't have a plain jane brochure, have a brochure that will catch your potential buyer's attention. One that they won't just throw away after the show. The brochure should be appealing to the eye, but also have great marketing material inside that people will want to read after the show. The font must be easy to read and your contact information should be in a spot on the brochure that is easy to find and stands out from the other text.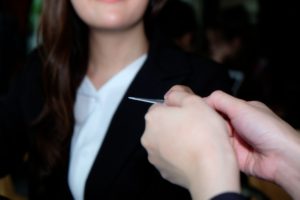 Business Cards
Business cards are an easy way for potential clients to contact you. Your business card should follow the brand of your company and also be easy to read. People will hang on to your business card for months if they are interested in the product that you are offering. Having a business card printed by a professional print company on the perfect paper will allow your potential client to keep your business card until they are ready to use it. If the card is too thin or is not on the correct paper, the card can rip and the ink can rub off after time. If you don't know which paper is best, ask the professionals at your print company they will help you through the process and make sure you have a product that you can hand out proudly.
Promotional Items
Many people enjoy walking around the trade show and collecting promotional items. If you are going to pay money for a giveaway, make sure the gift is something buyers can use over time. Place your logo on the item, so they see your logo every time they use the product. For example, if you are going to purchase pens as a handout, don't purchase the cheapest pen, they won't last long, and if they don't work great they will be thrown away. Purchase a nice gel pen that will last and people will use them and think of your company every time they see the logo.
These are just a few of the things you can do to spruce up your booth and presence at a trade show. Accent Group Solutions can print you a banner of any size, business cards you will be proud of, and promo items that you will see through the year. If you are looking for a print company in the Midwest, contact the professionals at Accent Group Solutions or you can request a quote on our website.