At Accent Group Solutions we make your business our focus.  We are a family-owned 3rd party logistics and print company that makes our clients and team members our priority.  Our focus is giving back valuable time to your team and adding profit to your bottom line by saving you hours and administration and thousands of dollars in freight.
By inviting Accent to become part of your team, you're letting the experts take ownership of crafting these custom solutions to make the complex simple.  We will take you from frustration to efficiency in three steps.
We Listen
When you work with Accent, we treat you like family. We connect you with a dedicated Account Manager who becomes your partner in print and fulfillment problem-solving.
We Analyze
Your Account Manager asks clarifying questions to develop a unique understanding of your business and its unique challenges.
We identify common business challenges and build solutions based on technology.
We Solve
After we identify your challenges and define your goals, we lay out a roadmap and strategy, leading to an automated solution that makes the complex simple.
Services offered by Accent Group Solutions
Design
Whether you have an idea that seems impossible to execute or just want to see what's possible, we're excited to design something remarkable for you. Let our team ideate around a thought or concept, and we'll design possibilities you'll be excited to integrate into your business.
Creative services and concepting
Structural engineering and design
Production art
Create
At Accent, we do more than just printing. We transform ink into metal and turn plastic into glass—all with a bit of magic. From a simple printed piece to a more complex project, you'll be amazed at what we can create for you. Even if you don't quite know where to begin, Accent can create fresh and innovative collateral that will get your business noticed.
Print Capabilities
Custom Finishing
Deliverables
Manage
Warehousing and fulfillment are core to our business, and we've got what it takes to supply and ship for national campaigns across multiple locations. Accent becomes your fulfillment partner by streaming all types of orders (eCommerce, transfer, retail and wholesale orders) into one system for the pick, pack and ship process. We ship about 10,000 parcels to more than 2,500 destinations every month, so put our expertise to work for you!
Inventory
Program Service Management
Our History
Accent has always been a family-centered business. Our grandfathers began providing printing and fulfillment services in 1946 from a garage when they returned from WWII. Decades later and through several transitions, we're proud to provide the same excellent service established by our grandparents. This isn't just a job—it's a way of life.
Mission
Our mission is to help our customers focus on their core business by using our expertise and tools to make the complexities of printing and fulfillment simple.
Vision
Our vision is to be the print and fulfillment partner that our customers love working with because we have transformed their business.
Values
At Accent, our core values are infused into everything we do.
We value:
Family and fun
Passion and persistence
Dedication and determination
Making a difference
Humble service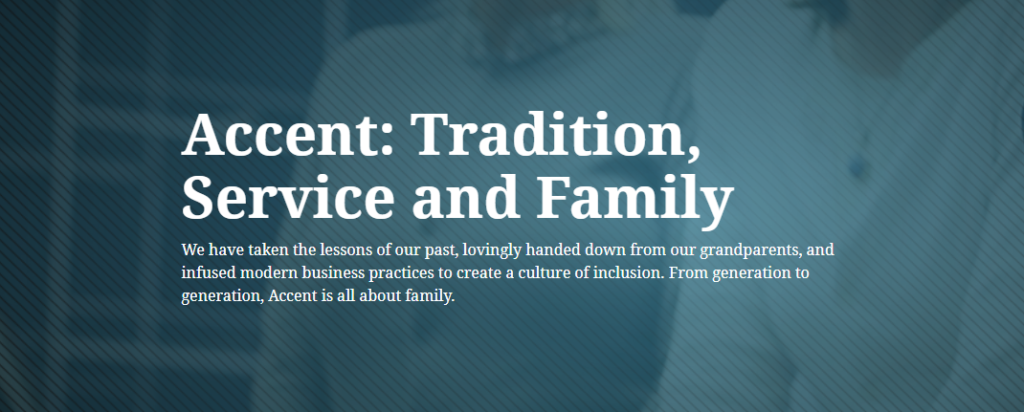 Are you looking for a printing and fulfillment company that treats your business like their own?  Accent Group Solutions is here for you.  Contact us at 314-965-5388 or visit our website www.accentgroupsolutions.com