Print marketing is an effective way to reach your target audience. Our printing company in St. Louis, MO has a great deal of experience. We pride ourselves on providing the highest quality print materials for our clients, pieces that have impactful design and clear messages. We truly care about our partner's business growth and effective print material is a fantastic way to do just that. As we design print material for our clients, we'll be asking ourselves these questions to ensure your marketing is impactful.
Is there a clear call to action?
Including a call to action is of utmost importance in your printed material. The piece needs to lead consumers to you, letting them know what you can do for them and how to contact you for your services. Don't leave your potential customers wondering how they can start using your business!
Does this design catch the eye?
Grabbing your reader's attention is the first step to success. It's vital that the visual aspect of your material gets the attention you deserve to keep your audience interested in reading more. It needs to serve the subject material and fit the customer and their brand.
Is it easy to read?
Font choice is essential to a clear message. Style, color, size, and READABILITY need to be well thought out while developing the material. If the print isn't readable, your prospect won't look any further. You will have spent time, effort, and money to line their recycle bin.
Is it obvious what is being portrayed?
When featuring a product or service, it is necessary to have a clear, concise message. Do not make a prospect guess. What are you promoting? Make it easy. Your message directly reflects your capabilities. If your message isn't clear, how would they now theirs would be?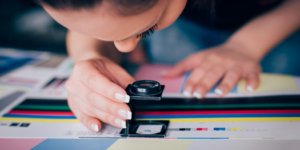 Are you ready to wow your potential customers with highly effective print material? Whether it's a banner at a trade show, marketing material throughout your daily business, or print mailers, our print marketing team is here to make your business stand out. Make an impact on your customers when you work with Accent Group Solutions! Let's start a conversation today.