Accent is not your average company; we put people first. We do everything we can to make our customers' lives easier, empower our employees, have fun at work and support our community. We've been in the printing business for three generations since our grandfathers returned home from World War II. They instilled in us the value of taking care of our employees and giving back to our community. We proudly support local and national philanthropic organizations, but the cause that is nearest to our hearts is supporting our local Special School District (SSD). In this week's blog, we will highlight our programs that give young adults with special needs and opportunity to learn valuable work and social skills. 
We host 3 programs that help these young adults succeed with future employment as well as in life. Teammates spend time learning new skills, making friends, learning how to be part of a team and conquering challenges every day. Accent is proud to participate in these programs:
Vocational Skills Program (VSP)
Summer Work Experience Program (SWEP)
Community-Based Vocational Instruction (CBVI)
VSP – Vocational Skills Program
The mission of the Vocational Skills Program is to provide a continuum of supports and services to students and families to assist the students in gaining skills needed to achieve realistic and meaningful post-secondary goals. When students with special needs have completed their traditional high school program, their support team may decide to continue their education through the Vocational Skills Program. Accent hosts up to 8 students each year who work with a Special School District teacher and job coaches. We focus on teaching both hard skills (the steps of the jobs) and employability skills (professionalism, communication, self-direction, and productivity).  
Students spend 6 hours a day, 5 days a week at Accent. Classroom instruction time is provided on-site to teach and practice social skills and self-advocacy, budgeting, interview skills, wellness and more. Most of the day, students work alongside Accent employees building and packaging boxes, operating pallet jacks and the cardboard shredder, fulfilling orders, collating and sorting items, cleaning and many other skills relevant to the logistics career pathway. Accent employees teach our students new skills, and our students get practice communicating appropriately and handling work responsibilities in an authentic setting. The goal is that by the time they are ready to graduate (typically after 1 to 3 years), they are ready for paid employment in an entry-level job.
Accent employees have embraced our program and our students. They model expected work behaviors, provide support when students struggle, give opportunities to practice social skills through daily interactions, and challenge students to stretch their skills. Accent leadership includes VSP students in all company activities (Christmas party, special luncheons, etc.) and allow students to contribute to the workplace culture by organizing activities such as a staff-wide secret Santa exchange, a birthday club, tie-dye Tuesdays, and ice cream socials!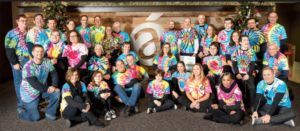 SWEP (Summer Work Experience Program)
Swep is a St. Louis County program that provides an opportunity for high school-age youth with disabilities to participate in gainful and meaningful summer paid employment for 8 weeks. Accent has participated in this opportunity for the past 3 years and is looking forward to their 4th year this upcoming summer. Accent provides the students with an opportunity to be exposed to meaningful skills to propel the youth forward in their career set.
CBVI (Community Based Vocational Instruction)
CBVI is a vocational program specifically designed for students with disabilities during their last two years of high school. The goal of the training program is to expand the vocational training opportunities beyond traditional school buildings, to community-based sites where the students can learn appropriate work behaviors and specific work skills in a naturally occurring environment. Students gain valuable work skills while working along with the employee at each community site. Students are evaluated and supervised by the SSD teacher and/or paraprofessional and are transported by the school district to the worksite during school hours.

These programs not only positively impact the lives of hundreds of families in our community, but also, they inspire our employees and warm the hearts of our clients. Our team is truly energized by these programs and they have changed our perspective on what it means to create an environment that is inclusive of all our employees. Accent is a better, stronger team because we work toward goals together. We'd love to put our team to work for yours and let you see the power of Accent.