Graphic design is imperative for the success of your business materials. Whether it's a print marketing campaign or internal documents, the pieces you put out about your business has a direct reflection on you. Potential customers will draw conclusions based on your campaigns. Our team of experienced graphic designers in St. Louis know how vital it is to get the right design concepts for your business. At Accent Group Solutions, we have the knowledge and experience to put together eye-catching and impactful marketing material with the help of our talented graphic design team. Learn more about our design process below:
Whether you're bringing a brain stormed idea to life or you simply want to present professional pieces for your everyday operations, our team would be honored to design a piece that makes sense for your business. You'll be excited as you see the art we bring to life through your marketing materials and/or your internal designs.
We take the time to learn about your business to best create a piece that works for you. Sometimes simple is better. Sometimes, an extra wow factor is just what you need to gain the attention of your target audience. Our team will design a piece that makes a lasting impression.
Marketing design required a balance of branding and messaging. We work hard to integrate both in the most impactful and clear way for our clients. Your logo and identity should remain consistent while follow your branding guidelines. This creates a stronger brand awareness for your potential customers. From print collateral to branded items, we are trusted with design and branding for many of our clients. Brand consistency is top of mind for our team, so the name you have cultivated is treated like it is our own.
We strive to use the power of design to connect people with brands in meaningful ways. Our team goes above and beyond to ensure the messaging is spot on for your unique business, product, and target audience. Our Midwest graphic designers create art that is both beautiful and effective!
Graphic Design Services:
Creative services and concepting
Copywriting
Collateral
Structural engineering and design
Brochures
Publications
Production art
Posters
Event Graphics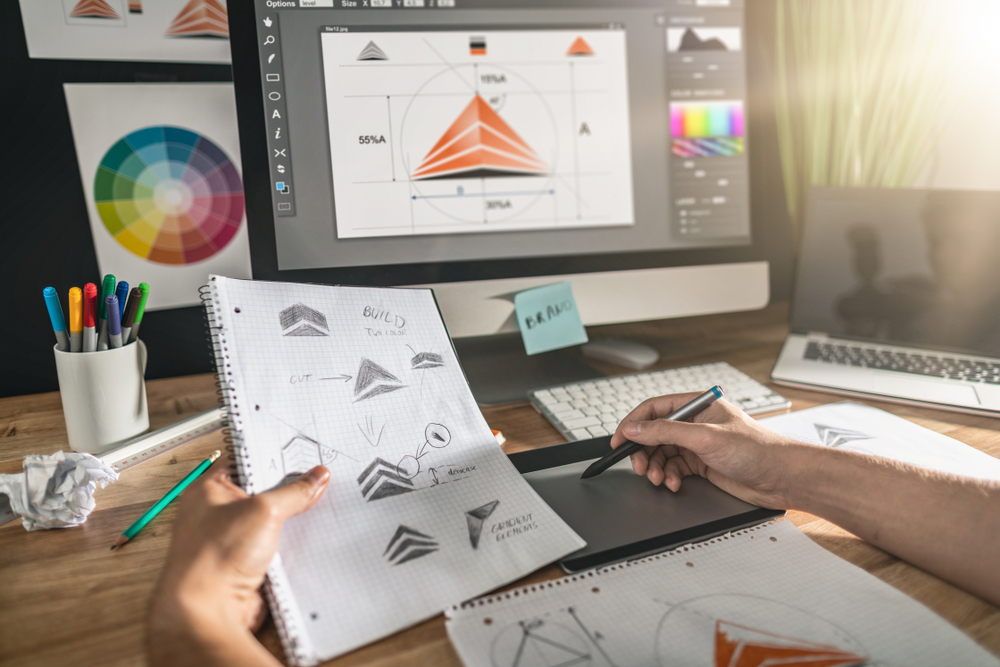 Put our expertise to work for your business with impactful designs that bring your brand and your message to life. Start a conversation with our print marketing company in St. Louis today to experience the Accent Group Solutions difference!