We're proud of our company and family history! Our printing heritage started in St. Louis when our grandfathers started their printing company in 1946 after their service in the war. We are honored looking back at where we've come from and remember those valuable lessons passed down to our Accent Group Solutions family! Join us as we look back at our rich history in the Midwest printing and fulfillment industry.
1946 – Our grandfathers joined forces to start a printing company. The new company was based out of their home as they learned the ins and outs of the printing trade.
1948 – The first official building for the company was established in Kirkwood, MO.
1990 – Our parents took the helm of the company.
1992 – The third generation started working for the family business.
2003 – We acquired three businesses to form Accent Group Solutions. Our print, fulfillment, and publishing services operate as one company.
2015 – WBENC (Women's Business Enterprise National Council) officially certified Accent as a women-owned business. This organization helps women entrepreneurs network their businesses.
2016 – Accent partners with SSD (Special School District) providing jobs to students with special needs and was honored with the prestigious 2017 Special Ambassador Award by the SSD. This program has changed our business for the better and touches the lives of our team, our students, our community, and our clients. Thank you for this five year strong partnership!
2017 – CEO and Owner, Erica Hughes, receives Enterprising Woman of the Year Award.
2021-Accent Group Solutions was honored to receive St. Louis Business Journal's Corporate Philanthropy Awards (Read the article and watch the video about this award.)
2021– CEO and Owner, Erica Hughes, receives Connections to Success Award.
2021 – Accent Group Solutions forges joint venture with Gateway Digital Press.
2021 – Accent Group Solutions continues to grow and expand to better serve the needs of our clients, staff, and community.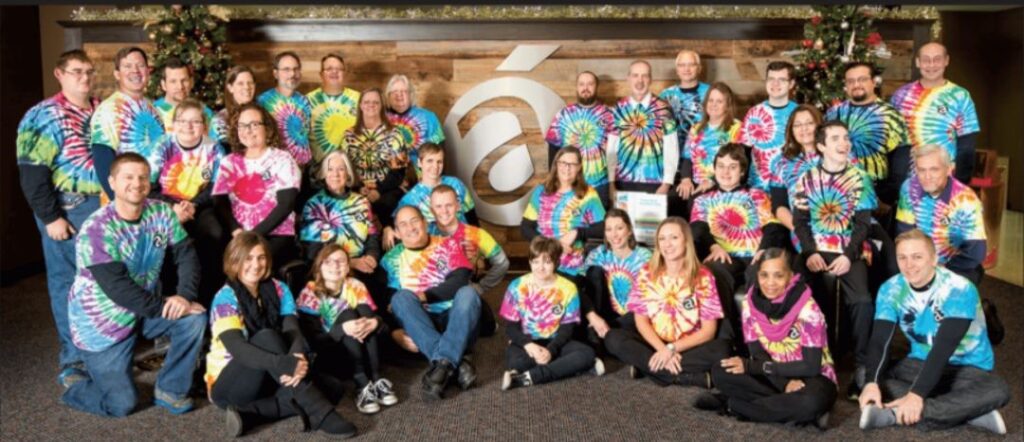 Wow! What an amazing story we've been a part of! We're honored to be able to carry out our grandfathers' vision from many years ago. They would be proud knowing their heritage lives on through Accent Group Solutions. Put our 75 years of history, printing, and fulfillment experience to work for your business. Let's start a conversation today!