While print and fulfillment are the core of our business, a big passion of ours is in our Special School District (SSD) partnership. When our son, Gary, was born with a brain abnormality, we quickly became familiar with the special needs world. As Gary got older, we learned that less than 20% of US adults with special needs are employed. We wanted to do everything we could to change that statistic and make our community a better place for individuals with special needs. Our print and fulfillment business in St. Louis offers three different SSD programs: Vocational Skills Program, Summer Work Experience Program, and Community Based Vocational Instruction. We're taking a deep dive into our Vocational Skills Program today! Check it out:
What Our Vocational Skills Program is All About:
As individuals age out of school, it is time to better prepare them to enter the workforce. Bridging the gap from student to employee can be tough for many individuals with special needs. Our Accent Group Solutions team recognizes that. It's one of the driving factors behind our partnership! Our SSD students learn soft skills and hard skills they will need to work for employers. Our students learn a number of tasks and procedures with our printing and fulfillment company in St. Louis, MO. Each individual has goals for completing each task in a timely manner, as well. This helps teach discipline in the workplace. We also enhance communications for our students. Interacting with co-workers, teachers, and employers are all important workplace skills. All of the skills that are developed and nurtured with our Vocational Skills Program at Accent Group Solutions are transferable skills to any workplace in the future. The goal is to prepare our students to be ready to enter the workforce!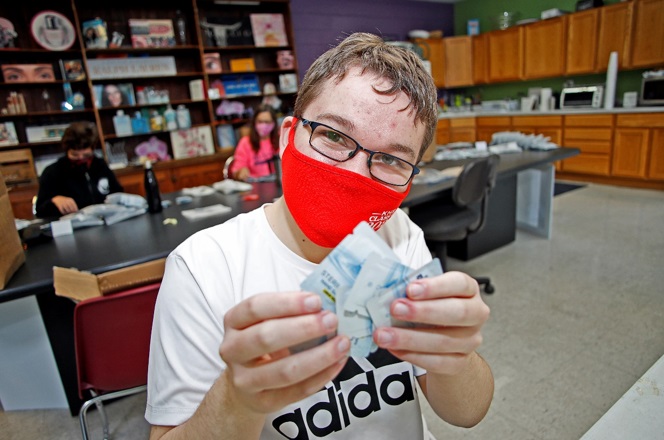 Our lives have been impacted for the better through our partnership with the SSD. Employees, students, clients, parents, and our community have seen the positive impact this partnership has provided for so many. Our team loves our SSD partnership and each and every day is brighter because of our students! Our team is truly energized by this program and this partnership has changed the perspective on what it means to create an environment of inclusion in the workplace for all of our employees. We are a better and stronger team as we work toward goals together. Put that synergy to work for your business when you partner with our print marketing company in St. Louis! Let's start a conversation today!