Halloween is an exciting holiday for kiddos and adults, alike. Make your business stand out when you get into the Halloween spirit! Our print marketing and fulfillment company in St. Louis knows how important it is to ensure your business always stands out from the competition and decorating for a holiday is no different! Check out our easy to execute Halloween decorating tips for businesses:
Get Festive Inside
Bring some Halloween, or even autumn-themed items into your business. From pumpkins to fake spider webs to a cauldron full of candy – there are many ways you can get your team and customers feeling the spirit of the season!
Decorate Entry
The entry way to your business sets the tone and is often the first impression you give your customers. Show what a fun business yours is to work with by ensuring your entry way is spot on for the season! Whether it's hay bales, pumpkins, and gourds galore or spooky décor all around, make your business stand out and feel welcoming for those entering your business!
Encourage the Competitive Spirit
Within your business, consider making a contest surrounding Halloween. Some fun ideas include desk/office/cubical decorating content and costume contest. This can really get your team excited for the holiday and into the spirit. It's also a fun team-bonding experience for all team members!
Participate in Trick or Treating
Trick or Treating may look different this year but your business can easily adapt! Consider having employees or volunteers stand outside your doors with a fun socially distant candy station set up, especially if you're located in a high-traffic area. Don't forget to promote that your business will be participating in trick-or-treating so your friends, family, customers, and potential customers can all stop by for a treat!
Hand Out Halloween-Inspired Promotional Items
Every kid (and adult) needs a candy bag or bucket for the big day! A nice mug makes the perfect way to warm up on a cold autumn day. Consider handing out holiday promotional items that that sense for the season so they are actually used. When a promotional item is used, you're easily spreading brand awareness and making a memorable impact on your customers!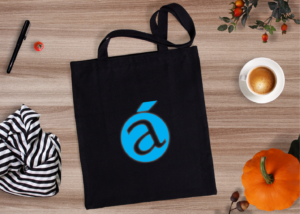 Even if you don't have a lot of outside clients or customers come to your physical location, decorating for Halloween can still help your team get into the spirit. With the unknown world we live in, having some extra joys at work can help keep employees engaged and excited about your company! If you are planning to decorate or have Halloween-themed promotional items or material, Accent Group Solutions is your one-stop for all things print marketing! We look forward to getting your business into the festive spirit!