Whether your small business is just starting out or you're looking to grow your existing business, marketing is a highly effective way to do just that. Our female owned print marketing company in St. Louis knows exactly how impactful the right marketing strategy can have for small businesses. If you're looking to make a big impact for your small business, you've come to the right place!
Hang a Sign
Make it easy for customers to find your location with a professional business sign. A large banner is a great fix for signage, as well. If customers have a hard time finding where you are located, they may give up on their search and head down the road to your competition. Having a nice sign also builds brand awareness. As potential consumers drive by your location over and over, they may be curious about your business and stop in one day.
Claim Your Google My Business Listing
Just like having a physical sign makes it a breeze to find your business, consumers also reply on the internet for directions. Ensure your Google My Business listing is claimed, updated, and accurate. Having this information as current as possible can make sure consumers trying to find our location can easily navigate right where they need to be.
Hire the Right Partners
The people you have working with your company can make all the difference in your success. Here at Accent Group Solutions, we pride ourselves on truly partnering with our customers so we can really know the ins and outs of their businesses. This detailed information leads us to create the best possible graphics and print marketing material for your ultimate success.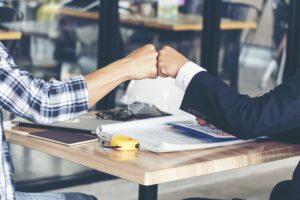 Our print marketing service is a fantastic way to grow your business. If you're ready to take your small business to the next level, let's start a conversation today!