A large print product is an extremely effective marketing tool for businesses. From billboards to signs out front of the building to large displays inside a business, there are many opportunities for a large print product to be used to gain traction for your business. Whether it's drawing new customers in or informing existing customers of a product, large print can improve the bottom line of your business, when executed correctly. Our print marketing company in St. Louis designs and creates eye-catching and effective large print products for our clients.
Large scale prints are unique as they are often times viewed from far away and up close, depending on the placement. There are a few things you should consider when working to design your next large print product:
Balance negative space
Negative space emphases your main focus, when done with the right balance. Too much negative space can appear plain and not worthy of focus but not enough negative space can be distracting for the eye and confusing for consumers. Finding the right balance can be tricky but an experienced graphic designer will be able to help bring your vision to life, while keeping the right amount of negative space for the best impact possible.
Space Out Graphics
Having a good amount of space between images and text makes it easier to read and process the purpose of the large format print. You don't want your print to appear cluttered or overly busy with images and text. Keep it simple and impactful with the right spacing across your design.
Contrast is Your Friend
High contrast makes your statements stand out. Wither its an image, your logo, or text, having a good contrast between the forefront and background makes the design easier to read, therefore making it easier for consumers to process, understand, and remember.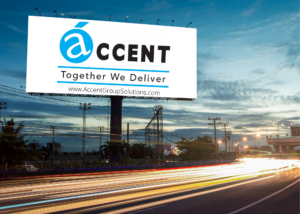 What are you waiting for? Now's the time to put these tips to work on your upcoming print project near St. Louis. Our woman-owned print company is here for all of your printing and design needs. Let's start a conversation today!