This week is all about being thankful and we're here to showcase one of our business sectors that makes us the proudest! Accent Group Solutions is thankful for the opportunity to be home to a classroom for Special School District (SSD) that helps educate and train students. This provides these young adults the personalized curriculum and skills needed to enter the workforce, when they graduate.
We host a total of three programs that give young adults with special needs an opportunity to learn valuable work and social skills to succeed with future employment as well as in life. Teammates spend time learning new skills, making friends, learning how to be part of a team and conquering challenges every day.
Here at our print marketing and fulfillment warehouse center, we enjoy sponsoring and mentoring these students. It is a wonderful gift to see the growth in these amazing young adults. Historically, many children with specials needs need growth in the areas of job tasks and social skills in a workplace. We are blessed with an amazing team that enjoys helping and mentoring these students. We are so grateful they are back in their "classroom" which is our workspace. We missed them terribly when they had to do remote learning and are anticipating a COVID free time again to get back to more meaningful interactions!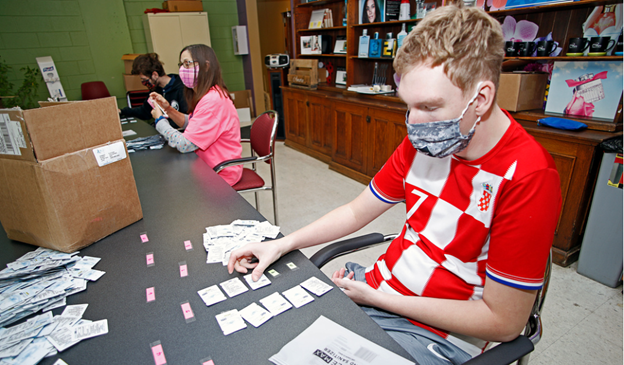 These programs are nothing short of amazing for adults with disabilities. We encourage all businesses to inquire about hosting programs. They not only positively impact the lives of hundreds of families in our community, but also they inspire our employees and warm the hearts of our clients. Our team is truly energized by these Special School District programs and they have changed our perspective on what it means to create an environment that is inclusive of all people. Accent is a better, stronger team because we work toward goals together.
If you are interested in learning more about our Special School District or how we can partner to grow your business, let's start a conversation today!